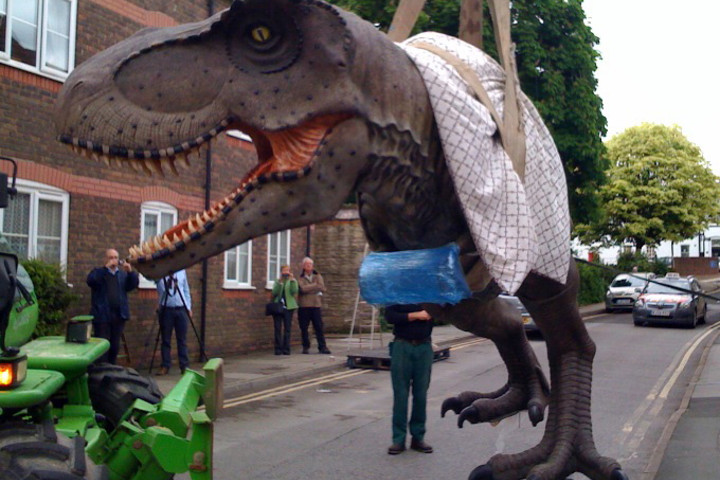 New Tyrannosaur Reconstruction Arrives
Date: 22nd to 22nd May 2014
Dorchester's renowned Dinosaur Museum is thrilled to take delivery of a new life size reconstruction of a T rex on Thursday 22 May. The new exhibit is all part of the Dinosaur Museum's 30th anniversary celebrations.
T rex is the iconic dinosaur. It's the dinosaur that is the most talked about and debated. It is also the top dinosaur as far as children are concerned. The T rex will join 'Tricky' the Triceratops outside the Dinosaur Museum in its yard to become a companion for this dinosaur. The Triceratops has been with the Museum almost since its inception and has become a much loved exhibit with both visitors to the Museum and passing locals. It is only right that she is to be joined by a fiercesome T rex, it will make the scene complete.
T rex and Triceratops would have been old sparring partners. 65 million years ago in the Late Cretaceous times a Triceratops was a potential food source for T rex.
The installation process is very tricky. A special telehandler is being brought in to lift the T rex from the road into the Dinosaur Museum's yard. The process will not be easy as there is a telegraph pole, various overhead cables and a fence to contend with and avoid.
The Dinosaur Museum first opened it doors to the public in the summer of 1984. It was Britain's only museum devoted to dinosaurs. It quickly became recognised for its innovative use of display techniques, for its fun and exciting approach, and for breaking down barriers in museums. Since that time it has continued to enthrall and entertain visitors becoming one of the regions top attractions.