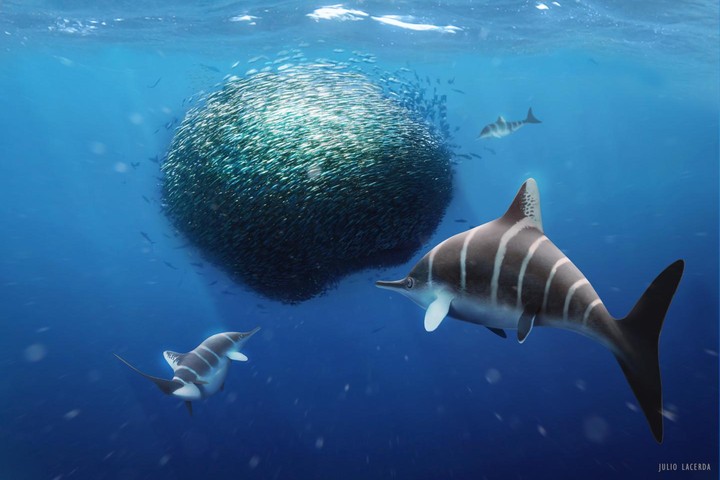 Ancient Mystery solved between 2 species of Ichthyosaurs
Published: 9th Mar 2017
Ichthyosaurus were a large group of marine reptiles originating during the Triassic, Jurassic and Cretaceous periods. The first large extinct reptiles brought to the attention of the scientific world and played a large role in the history of paleontology.
Image: Artwork with 'bait ball' Ichthyosaur. Credit Julio Lacerda
The first Ichthyosaur (Ichthyosaurus Communis) was discovered in the early 19th century and was officially described in 1821 by William Conybeare. By 1822 a further three species were described, one being the Ichthyosaurus Intermedius which was still closely related to the Ichthyosaurus Communis. It was believed that based on the shape and structure of their teeth that they were different species. However, due to the close resemblance between the Ichthyosaurus Communis and Ichthyosaurus Intermedius, there was much confusion and many skeletons identified as unreliable.
Palaeontologists Dean Lomax and Judy Massare have studied thousands of Ichthyosaur fossils and have set out to solve a mystery between the Ichthyosaurus Communis and Ichthyosaurus Intermedius as to whether they were different species.
Commenting on this paleontological puzzle, Dean Lomax stated:
"The early accounts of Ichthyosaurs were based on very scrappy, often isolated, remains. This resulted in a very poor understanding of the differences between species and thus how to identify them. To complicate matters further, the original specimen of Ichthyosaurus Communis is lost and was never illustrated. Similarly, the original specimen of Ichthyosaurus Intermedius is also lost, but an illustration does exist. This has caused a big headache for paleontologists trying to understand the differences between the species."
In this new research Dean and Judy set out on the most extensive review of all research on these two very close Ichthyosaurus species. Looking at similarities and differences, they can confirm that the two species are in fact the same.
This conclusion solves a mystery of the different Ichthyosaurus species that has been baffling paleontologists for over 100 years.
You can read the whole research article here in Journal of Systematic Paleontology: http://dx.doi.org/10.1080/14772019.2017.1291116.